JAWAR Nord
Ceramic chimneys
An air-flue gas chimney system designed for fireplaces in energy-saving construction.
Application:

pellet

wood
JAWAR NORD is a chimney system with air supply, designed to work with wood or pellet fired stoves. It can work, among others, with stoves with a closed combustion chamber.
Product description
JAWAR NORD is a four-layer chimney system designed to remove exhaust fumes from devices fired with solid fuels, suitable for both traditional and passive construction
The advantage of this system is not only the extraction of smoke, but also the supply of air to the heating device by gravity.
During the operation of a heating device, such as a fireplace, a negative pressure is created, thanks to which combustion air is sucked in through a special connection of the fireplace with the chimney. This solution does not cool the apartment as in the case of supplying air from the outside. It is also safe for users, as it ensures a constant supply of oxygen to the combustion chamber. The operating heating device does not take combustion air from the room in which it is located, thus it creates an integral heating system.
JAWAR NORD system is an ideal solution also in case of an operating mechanical ventilation system. Thanks to the possibility of working with a fireplace with a closed combustion chamber, it creates a closed air-gas system that is not disturbed by ventilation. It is therefore a solution for people who want to combine modern mechanical ventilation with the desire to have a real fireplace at home.
JAWAR NORD chimney system is equipped with a number of important accessories increasing the durability of the chimney, which significantly affect the safety of the chimney system. For the sake of safety, we have used an additional seal in the form of a lockingplug and an insulated inspection door, which effectively protect the chimney system against high temperatures in the event of a soot fire.
As a standard, we provide a special bond which connects the chimney with the heating device outlet, ensuring compensation in the event of expansion of connection elements. The heart of JAWAR NORD system is the JAWAR ceramic pipe, produced in the isostatic pressing technology, characterized by resistance to high temperatures, frequent cooling and heating, and with low water absorption. A large number of well-thought-out solutions, as well as the use of ceramics produced in the innovative technology of isostatic pressing make JAWAR NORD chimney system a leader among chimney systems.
Properties
Ceramic chimney system to exhaust fumes from stoves and fireplaces
The first Polish chimney that provides the stove with a constant, uninterrupted supply of combustion air
Does not require to install an additional channel for supplying air for combustion to the stove
Exhaust fumes of temperature 60-600C
The first Polish chimney system which may be placed next to burnable materials (T400 G00 class)
Chimney system marked with CE according to the following standards:

EN 13063-1 T600 N1 D3 G50
EN 13063-1 T400 N1 D3 G00
EN 13063-3 T600 N1 D3 G50
EN 13063-3 T400 N1 D3 G00
Available diameters
Chimney construction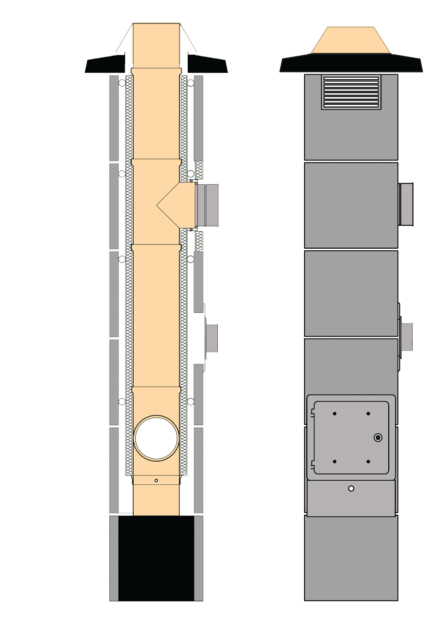 Environmental protection
JAWAR NORD chimney is a product developed with the support of Norwegian Grants. It is a chimney designed to save the environment and users' money. Due to the heat exchange that takes place in the chimney between the exhausted gas and the supplied air, the efficiency of the heating device increases, and thus – the fuel consumption and the emission of solid particles and CO2 to the atmosphere decrease. The temperature efficiency of heat recovery in the JAWAR NORD chimney reaches 5% .JAWAR NORD is one of the most modern and ecological chimneys on the market.
Kit components
Basic elements:
Mounting package includes:
For an extra charge:
Files to download
Assembly instructions for JAWAR Nord
Size: 247.42 KB
Certificate JAWAR Nord
Size: 784.02 KB
Declaration of performance JAWAR Nord
Size: 911.81 KB
Library CAD JAWAR Nord
Size: 128.82 KB
Warranty card JAWAR Nord
Size: 1.55 MB
Price list of Chimneys System – Ceramic chimneys 2022
Size: 5.33 MB
Select a chimney
Are you wondering which chimney will be right for your home? Relax - you don't need to know anything about it. We are chimney specialists and we will be happy to help you. Use the convenient configurator that will quickly help you choose the right chimney for your home.