JAWAR SPS-K
Ceramic chimneys
Jawar SPS-K chimney is the modern air-gas system for multi-family housing, designed to exhaust flue gases from gas boilers with a closed combustion chamber and condensing boilers
Application:
oil / gas (condensing)
JAWAR SPS-K chimney is used to discharge exhaust gases and supply air to condensing heating devices in multi-family housing. Up to 10 boilers can be connected to the SPS-K chimney.
Product description
It is a way to secure, independent, rent-free heating in apartments in multi-family housing.
The sleeve connection has been additionally sealed with silicone, which guarantees the highest tightness. The heart of the SPS-K chimney system is Jawar ceramic pipe, produced in the modern isostatic pressing technology. It is characterized by high durability and resistance to aggressive condensate.
SPS-K also supplies combustion air in addition to flue gas discharge. The air is transported in the space between the ceramic tube and the block in the opposite direction to the exhaust gas. The corrugations on the outside of the tube increase the heat exchange surface. As a result, the efficiency of the system increases.
Jawar SPS-K is a very safe system that eliminates the risk of hazardous carbon monoxide leak during the operation of heating devices. It is an ecological and energy-saving system. The light perlite-concrete block used in the system is an excellent insulator, it perfectly dampens the sound, and the small size of it allows you to save the usable space of the apartment.
Properties:
For multi-family housing
For gas and oil boilers
For condensing and low-temperature boilers
Capable of operation with boilers with closed combustion chamber
Max gas temperature 200C
Operation in underpressure and overpressure
Low weight and size
Perfectly damps sounds
Chimney system marked with CE according to the following standards:

EN 13063-2 T200 N1 W3 000
EN 13063-2 T200 P1 W3 000
EN 13063-3 T200 N1 W3 000
EN 13063-3 T200 P1 W3 000
Available diameters
12, 14, 16, 18, 20, 25 cm
Chimney construction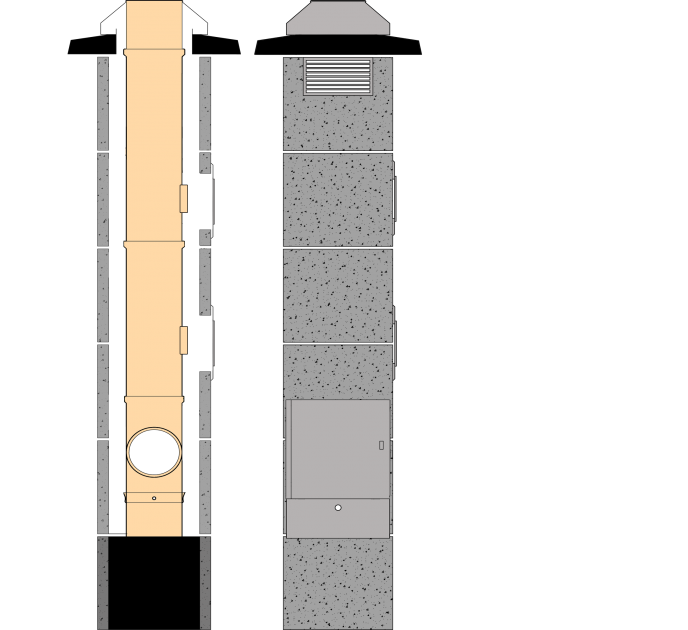 Environmental protection
JAWAR SPS-K chimney can be used in modern multi-family housing. Thanks to its small dimensions (36×36 cm), it allows you to save the usable space of apartments. The chimney can be connected to the most modern condensing devices. It helps to increase the efficiency of the heating device through heat recovery in the chimney and the possibility of condensate return to the boiler.
Kit components
Basic elements:
For an extra charge:
Files to download
Price list of Chimneys System – Ceramic chimneys 2021
Size: 3.48 MB
Select a chimney
Are you wondering which chimney will be right for your home? Relax - you don't need to know anything about it. We are chimney specialists and we will be happy to help you. Use the convenient configurator that will quickly help you choose the right chimney for your home.