Product description
JAWAR K chimney system is a modern solution for flue gas exhaust and eliminating the risk of hazardous carbon monoxide formation during the operation of heating devices. This system saves energy and improves the heat balance, thus ensuring safety and comfort for its users.
The core of JAWAR K chimney system is a ceramic pipe produced in an innovative technology of isostatic pressing, which is characterized by high durability and resistance to aggressive condensate. The slieve connections are additionally sealed with silicone, which guarantees the highest tigthness. Thanks to the use of non-corrosive ceramics, JAWAR K chimney is much more durable than similar solutions made of stainless steel.
The corrugations on the outside of the pipe increase the heat exchange surface. As a result, the air supplied in counterflow heats up and the heat exchange surface increases by about 3%
The light perlite-concrete block used in the system is an excellent insulator. It perfectly dampens the sound, and its small size allows you to save the usable space of the house.
JAWAR was the first in Europe to introduce an isostatic elbow with a diameter of 80mm. Thanks to its use in the JAWAR K chimney, it is possible to return the condensate from the chimney back to the heating device, which further increases its efficiency.
Properties:
For gas and oil boilers
For condensing and low-temperature boilers
Capable of operating with heating devices with closed combustion chamber
Returns condensate to the boiler (applies to diameter 80mm)
Max temperature of flue gas 200C
Works in overpressure and underpressure
For use in single-family and multi-family housing
Low weight and size
Chimney system marked with CE according to the following standards:

EN 13063-2 T200 N1 W3 000
EN 13063-2 T200 P1 W3 000
EN 13063-3 T200 N1 W3 000
EN 13063-3 T200 P1 W3 000
Available sizes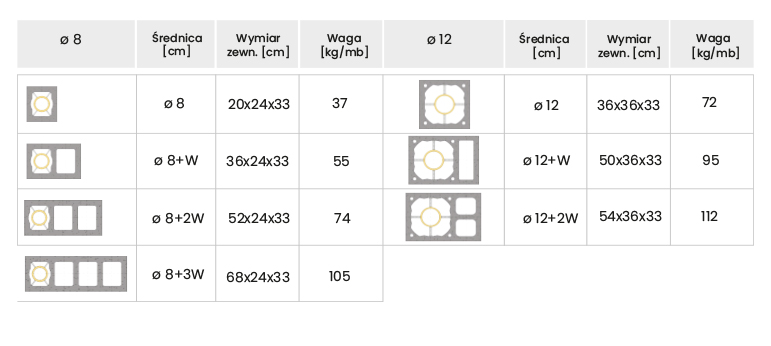 Chimney construction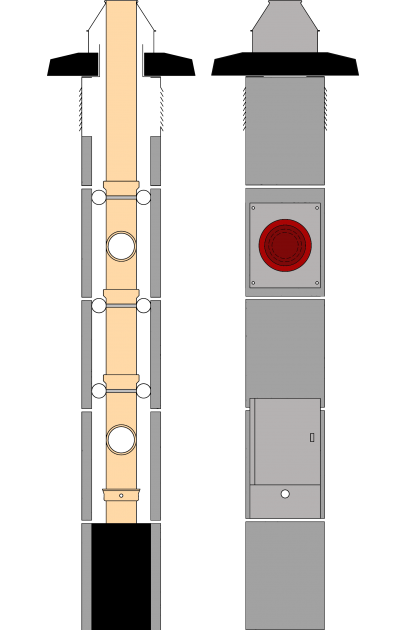 Environmental protection
JAWAR K chimney can be used both in new buildings and in restoration of existing buildings. Thanks to its small dimensions (20 x 24 cm), it can be integrated into an existing wall during restoration. The chimney can be connected to the most modern condensing devices. It helps to increase the efficiency of the heating device through heat recovery in the chimney and the possibility of condensate return to the boiler.
Kit components
Basic elements:
For an extra charge:
Files to download
Assembly instructions JAWAR K
Size: 1.45 MB
Certificate JAWAR K
Size: 526.47 KB
Declaration of performance JAWAR K
Size: 876.37 KB
Library CAD JAWAR K
Size: 214.31 KB
Price list of Chimneys System – Ceramic chimneys 2022
Size: 5.33 MB
Select a chimney
Are you wondering which chimney will be right for your home? Relax - you don't need to know anything about it. We are chimney specialists and we will be happy to help you. Use the convenient configurator that will quickly help you choose the right chimney for your home.