JAWAR OW
Chimney liners
JAWAR OW is a chimney liner made of acid-proof stainless steel. It is a complete set of elements to protect the existing brick chimney. They are used in the restoration of rectangular chimneys, where the circular cross-section does not provide a sufficient area.
Application:

oil / gas (non-condensing)

pellet

wood
JAWAR OW systems are used as chimney liners to protect existing brick chimneys. They are designed to exhaust flue gases from heating devices in residential and non-residential buildings.
Properties
Made of acid-proof stainless steel 316L thickness 0,6mm – 1,0mm,
Working temperature: up to 600⁰C,
Operation in dry and wet conditions,
Operation in underpressure,
Installation inside of a brick chimney,
Wide range of dimensions,
Easy and fast installation,
Low heat capacity,
High gas-tightness.
Available dimensions
100x200mm, 110x230mm, 120x240mm
Application example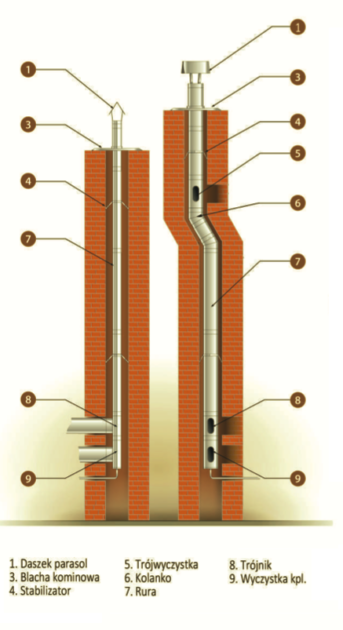 Environmental protection
The chimney system is perfect for restoration of existing buildings. In the case of thermal modernization of a building and the need to use a more efficient heating device, it is necessary to install a chimney insert in the brick chimney to protect it against the negative effects of condensate.
Kit components
Basic elements:
For an extra charge:
Select a chimney
Are you wondering which chimney will be right for your home? Relax - you don't need to know anything about it. We are chimney specialists and we will be happy to help you. Use the convenient configurator that will quickly help you choose the right chimney for your home.